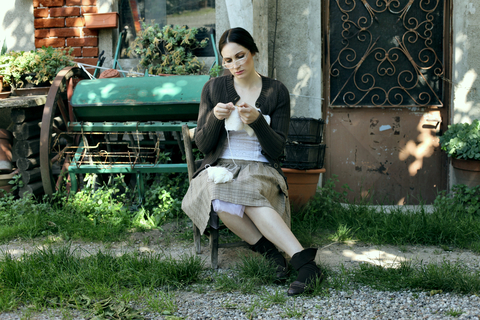 In the crafting world, crocheters are often considered the redheaded stepchildren of the fiber artists.  Not only is knitting considered more versatile and hip, but they also get the majority of online attention in the form of blogs and websites.  While crochet may conjure childhood memories of itchy acrylics and scratchy afghans, there is so much more to this beautiful craft today.  Unfortunately, while the art of crochet is gaining in popularity, it is still hard to stumble upon a great crochet blog.  For this reason, today we'll talk about the top 3 crochet blogs that you should check out for tutorials, patterns, and inspiration for your own crochet business.
Sara started her blog, Tangled Happy, back in 2010 when she quit her job as a bank teller to stay home with her children.  She always dreamed of yarn and blogging, so it seemed the perfect fit for her.  The blog started out as a way for her to keep track of projects and people that inspired her, but it has grown into a vastly popular blog that brings crocheters together in a sort of online community.  Tangled Happy includes free patterns, links to paid patterns, project inspiration, and tutorials.  This crocheting blog has helped spread the message that crochet is cool with its amazing photos and links to hundreds of patterns for all skill levels.  If you're in a crochet rut and need some new project ideas, Tangled Happy is a great place to start for a new idea.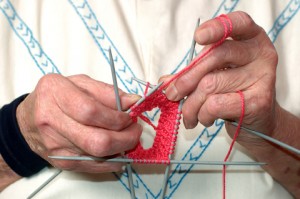 This crochet blog proves that men can crochet, too!  Drew Emborsky, aka The Crochet Dude, is a fiber lover, designer, blogger, and even an author.  His published work includes The Crochet Dude's Designs for Guys: 30 Projects Men will Love and Men Who Knit and the Dogs Who Love Them.  In addition, he has also been featured in numerous crochet and knit magazines as well as appearing on television as the crochet expert on the PBS show Knit & Crochet Now! His story, which can be found on his blog, is a very inspiring story about how he has built his name and his career around the art of crochet.  By reading his blog, you can get a peak into his design process as well as reading his day-to-day information as a regular dude in the crochet world.  You can also find a link to his free patterns page on his blog, which consists mostly of afghan squares and accessories.
If you're a novice at crochet, this crochet blog is perfect for you.  Teresa is well known in crochet circles as an excellent teacher.  Not only does her blog include tutorials for basic crochet stitches, she also includes YouTube videos so that you can see the process first hand.  Unlike many other crochet videos available online, Teresa's instructional videos include many details, repetitive practice, thorough explanations, and are slowed down during the important steps.  She also has videos that show a project from start to finish, so that you don't have to get confused by the terminology in crochet patterns.  You can just open up her video and follow along to create your first few projects and get accustomed to the phrases used in these patterns.  Are you left-handed? You can even find instructions and videos specific to left-handed crocheters on Teresa's blog!  In addition to beginner crochet tutorials and patterns, Crochet Geek also includes tons of free patterns crochet giveaways, and even tutorials for more advanced techniques such as Tunisian crochet and specialty crochet motifs.
The art of crochet is rapidly gaining in popularity, but it still can't compete with knitting in terms of followers and fans.  There are so many inspiring projects out there that go beyond your grandma's idea of crochet if you can only find them.  While there are many craft sites that include a section just for crochet, it can be fun to find a cozy little corner of the Internet just for you. If you are inspired by crochet and want to check out some amazing blogs dedicated strictly to this craft, these three crocheting blogs are a great place to start.  I also love these sites because each one is a great example of a thriving crochet business – so when you are looking at them make sure you get inspired by their stories and how they have been able to effectively make money from crochet. And whether you are a novice, or have been addicted to crochet for years, there is something for everyone on these crochet blogs.