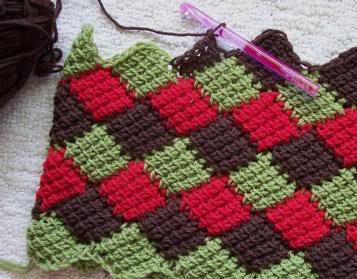 Entrelac crochet is a more uncommon form of crochet that creates a diamond pattern within your work. It was originally used only for knitting, but with the knowledge of some basic Tunsian crochet stitches, you can make this same look with a crochet hook rather than knitting needles. If you want to make a unique, colorful pattern for your next crochet project, try out a simple entrelac crochet tutorial, which you can find at the end of this article. You'll probably find yourself hooked on the technique and find yourself surrounded by small crocheted diamonds in no time!
All About Entrelac Crochet
Entrelac crochet is a way of creating a project using rows of diamonds. It is a stunning look on everything from blankets to potholders or even bags. Many crocheters that try the technique become addicted to the fun pattern and unlimited amount of colors that can be used in this color. Whether you want to make a simple design with two colors or make something fun and eye-catching by changing to a new color for every row, you'll end up with a stunning piece of crochet.
To make this design, you have to have some basic knowledge of Tunsian crochet, which means that you'll be working multiple crochet stitches on your hook at one time. This makes it more like knitting than crochet, except you use a crochet hook instead. It shouldn't be an intimidating idea, though, because the basic Tunsian crochet stitches are rather simple and easy to learn. In addition, for entrelac crochet, you don't even need a large hook. Since you're working in short rows, you can use a standard crochet hook for this technique.
To make this pattern, you'll start out making one row of diamonds in one color, and then the next row will be worked in between the diamonds of the first row with a new color. You'll complete this pattern until your project is complete, rather that project be a potholder or a blanket.
Entrelac Crochet Tutorial
If you want to try your hand at this technique, here is a simple tutorial to help you through it. First, gather your supplies:
• I or J crochet hook
• Worsted weight yarn in two colors
To get started, you'll work a chain row. This row needs to be worked in multiples of 10 plus one. For example, you could work 31 chain stitches before you begin your first row. To begin the first diamond, you need to pick up a loop on the second chain from your hook, and pick up a loop from the next five chains. This will leave you with seven loops on your hook. Work off all the loops on your hook then pick up the next five vertical bars and one loop off the next available chain stitch, which will leave you with seven loops on your hook again. Work off all these loops and repeat this process three more times. Then you can bind off your diamond loosely and begin on the next one.
To make your second diamond, pick up the next six available chain stitches and repeat the same process you did with your first diamond.
You can create as many diamonds as you need to fill up your chain row. As long as you followed the basic instructions for your chain row, you should end up with just enough stitches in the end.
Your next row will be completed in the same way as your first row, and will be worked in between each existing diamond. Once you've done this, you've accomplished entrelac crochet!
This crochet technique is a great way to imitate a knitting technique and create a colorful design that works well on a number of projects. Whether you are looking for an interesting blanket design or a fun way to make some handmade potholders, entrelac is a great way to accomplish this goal. With the knowledge of some simple Tunsian crochet stitches, you can create this look the next time you are looking for an interesting and unique design for a crochet project. Try following this basic tutorial so that you can master the art of entrelac crochet.