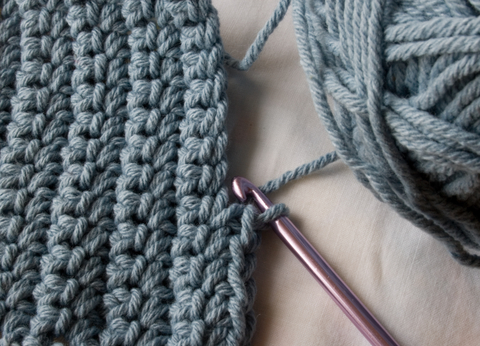 Crochet edges can make all the difference in your next crochet project. These edges are particularly popular among blankets, which makes sense. After all, why put all of that time and effort into lovingly creating a blanket and then leave the edges plain? Adding an edge can make the difference between homemade and heirloom quality crochet. Be sure that you take the time and effort to complete your next project and make it heirloom quality. If you're unsure how to edge your work, read on for some inspiration at every skill level.
Beginner Crochet Edges
If you're still a beginner at crocheting, don't be intimidated by the idea of adding a border to your work. While there are plenty of lacy, intricate borders that you can add to crochet work, there are also plenty of basic borders that can make a huge difference in the outcome of your project.
Adding a crochet edge to your work not only fixes the messy edges of your work, but it also protects your design by adding a layer of stitches going in a different direction, so the edges, color changes, and chain stitches are all protected by a few rows of stronger stitches. Here are some options if you are still new to crocheting.
The first, and most basic, option available is a single crochet border around your work. To create this border, you simply join your work in a corner, chain one, and then single crochet all the way around your project. In some places, you will be working into the sides of your stitches instead of the top, so make sure that you only add one single crochet per row. You can add several rows of single crochet, and even add a few color changes to add interest to the border. Even though it is a very basic stitch, there are still ways to personalize it!
Another popular choice, especially on blankets, is a yarn fringe. To make a fringed edge, take a few strands of yarn that are about three to four inches long, fold them in half, place your hook through the stitches in your project and through the folded middle of your yarn strands. Then, pull up a loop with the middle of your yarn strands, and pull the edges through tightly. Once you've done this around your entire blanket, you can trim all the ends so they are the same length.
Another pretty crochet edge that you can crochet as a beginner is a picot stitched edge. The picot stitch creates small points, so doing this every three or four stitches can make a very pretty border. To create the picot stitch in a border, make a single crochet, and then chain three. Make a slip stitch in the second chain from your hook and then skip a stitch and put another single crochet in the next stitch. This works really well if there is already a base row underneath it, so try making one entire row of single crochet on the border and then adding a second row of picot stitches. You'd be amazed how drastically this will change the look of your project!
Advanced Crochet Edges
In addition to the basic borders you can add to your crochet projects, there are also a lot of really intricate crochet edges that can be truly stunning and transform your work into heirloom quality. While they are probably a bit too much for a beginner to handle, if you've been crocheting for a while you're probably up for the challenge!
A great example of an advanced crochet edge is a detailed lace edge. These lace borders can come in many different patterns, but typically contain a lot of chain stitches combined with a few single or double crochet stitches to ground them to the project. When I make a lace border on my blankets, I prefer not to follow an exact pattern, and instead make something that looks pretty to me. To make a lace border really pop, you should have several rows of border already in place to really ground the design. I like to start out with a row of single crochet, then a row of double crochet and chains, and then a row of cluster stitches, and then begin my lace pattern. This gradual change from stitches to lace really draws the eyes and has a great effect on the finished project.
If you're looking for a way to jazz up your next crochet project, remember that borders make all the difference! Whether you are a beginner, putting a simple row of single crochet around a blanket or an advanced crocheter designing your own lace edges, you can change the look of your entire project by taking the extra time for this step. A great place to look for inspiration on crochet edges is on Ravelry.com. There you can browse photos submitted by members in every skill level with notes on how they completed their projects. It's a great way to brainstorm the details of your next big project!