I came across an interesting crochet term today, called Bavarian Crochet, and was once again amazed at the nearly limitless stitch combinations that can be created using crochet. While this stitch combination is still rather new, it has been gaining in popularity over the last few years. It's easy to see why, too. The beautiful textures and color gradients created by this stitch combination result in a stunning piece of work that is sure to impress even fellow crocheters! If you've never tried this technique, it is worth checking out, because as it turns out, this stitch is not nearly as complicated as it looks.
What is Bavarian Crochet?
Bavarian crochet is a fairly new term for an antique circular crochet motif that is worked in two rows. The first row is a series of clusters, and the second row is a series of shell stitches worked into the post below the stitch. This creates a fantastic texture in your work that you don't usually see. While the stitch can be done all in one color, it has amazing eye appeal when done in multiple colors instead. Because of the way the stitches come together, what you end up with is a blended gradient of colors rather than sharp lines of color change.
Looking at this stitch, you would think it is much more complicated than it really is. As a matter of fact, once you get the hang of the pattern, it is really quite simple, although time consuming.
Bavarian Crochet Tutorial
Bavarian Crochet became popular when it was mentioned in an Annie's Attic catalog as an advertisement for their new book. However, many crocheters don't have the money to spend on every crochet book that catches their fancy. If you'd like to practice this stitch without paying for yet another crochet book, you can check out the Wool Eater Blanket on Ravelry.com. The pattern is absolutely free, and while it doesn't name the stitch, it is the same one.
The stitch pattern itself is not very complicated. It would probably rate at about an experienced beginner for difficulty, because it is really just a combination of two stitch patterns. The only problem with it is that it is very time consuming. In addition to that, many crocheters that have tried this pattern say that the name "wool eater," is very appropriate, since you will use quite a bit of yarn to finish a project. Still, with such a stunning end result, many would say it is worth it to give it a try.
Some great projects that you can try this stitch on with great results include: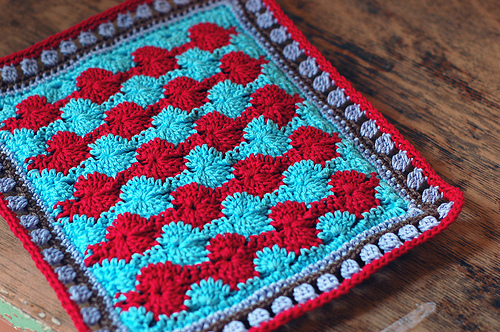 • Blankets
• Shrugs
• Table runners
• Hats
• Scarves
• Baskets
• Shawls
• Purses
If you want to try out the stitch without using a lot of time or yarn, it may be best to start with one of the smaller projects. Once you determine if it is worth the time and materials that go into it, you may decide to work up a stunning blanket using this stitch.
Catherine's Wheel Crochet Stitch
Many crocheters seem to believe that this stitch is the same stitch as the Catherine's wheel crochet stitch. However, there are some differences in the two that you should be aware of before you use the terms interchangeably. The most obvious difference is that the Bavarian crochet stitch is worked in the round, while the Catherine's wheel crochet stitch is worked in rows. Another big difference is that with the Catherine's wheel crochet stitch you crochet into the stitch itself, but with Bavarian crochet you work your stitch into the post underneath the stitches to create the textured look that makes it so unique. So, while the two stitch techniques are very similar, they are not identical.
It is so amazing how many different ways you can make your work unique using the art of crochet. In fact, even after years of crocheting I am still learning new things, which you really don't get too much with most crafts. The Bavarian crochet stitch is a beautiful stitch combination that looks very impressive once it is complete. Luckily for avid crocheters, the technique is actually deceptively simple. With a free pattern and a lot of yarn, you can work your way towards a stunning blanket that will impress all of your crocheting friends!