This summer, instead of getting a basic swimsuit at a big box store, why not show off your crochet skills with a crochet bikini? By doing so, you'll have a completely unique and original swimsuit that's bound to stand out at the beach or pool. Crochet-wear has grown in popularity in the last few years, and the trend has not missed swimsuits. Everyone these days craves that homemade look, and with a bikini, you can make that look sexy. If you love the look of crochet, you can now wear yours in the form of a bikini so that you're in style in the pool, lounging at a spa, or tanning at the beach.
Crochet Swimwear: The Latest in Crochet Fashion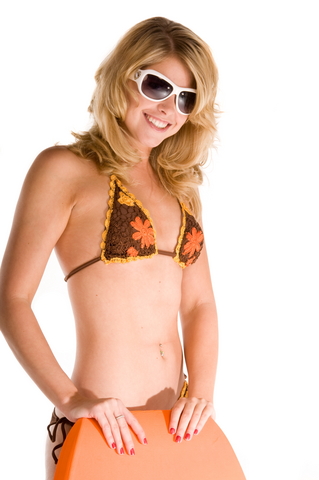 We can all admit that a crochet bikini may not be the best choice for everyone, but for those with the ability to wear one, these swimsuits are a great way to attract attention this summer. Part of the appeal of crochet swimwear is the versatility. Some crocheters love the look because of its vintage throwbacks. Some love the hippie and bohemian look that comes with a lot of crochet. Still, others like the intricate design work that can be done with crochet. Whatever the reasons for your love of crochet bikinis, enjoy the season because they are now all the rage!
Another big appeal held by these swimsuits is the originality. Whether you purchase one from a handmade artist or try your hand at making one yourself, there are so many ways to make them one-of-a-kind and unique. If you make your own, your swimsuit will have a totally personal touch because it is your design, color choices, and style. If you purchase one from someone else, you can usually make custom requests and get a crochet bikini that is just right for you!
How to Make a Crochet Bikini
Crochet swimwear is popular among designers because it presents a new challenge. Unlike slippers, a hat, or even a sweater, a bikini relies heavily on individual measurements. Women come in many different shapes and sizes, so there is not a one-size-fits-most approach that can be used when crocheting something as fitted as a swimsuit. That is where your crochet knowledge can help out! Even the most beginner crocheter can make a bikini top. In fact, there is a simple pattern included in The Happy Hooker, a book designed to teach people how to crochet.
For a simple bikini top, all you really need are two triangle motifs joined by chains and some decorative edging. The most complicated part of designing the swimsuit is ensuring that the measurements are accurate. After all, there is nothing worse than a bikini top that is too big or small!
If you are using a standard triangle motif for your bikini top, the sizing shouldn't be too much of an issue. Since these triangles are typically done in rounds, you can just stop when you get to the size you need. Once you've finished your triangles, you can either sew them together or join them with chains to get the look that you prefer.
Now, as far as the crochet bottoms go, there are so many options. The simplest, of course, is the string bikini bottom, because it will tie with chain stitches, like the top. However, if you want more coverage, there are always patterns available! When you find the pattern you like, become familiar with it, and make sure you adjust the stitches to fit your measurements. Most patterns will include instructions on how to make their design bigger or smaller, so make sure you utilize their knowledge!
This summer, why don't you show off your crochet skills with a stunning swimsuit that you made yourself? If you have had some practice with the basic crochet stitches and can read a pattern, then crocheting your own swimwear is an ideal solution to this year's swimsuit dilemma. Not only can you customize the look of your crochet bikini to match your style, but also you can ensure that the measurements are just right for your body.