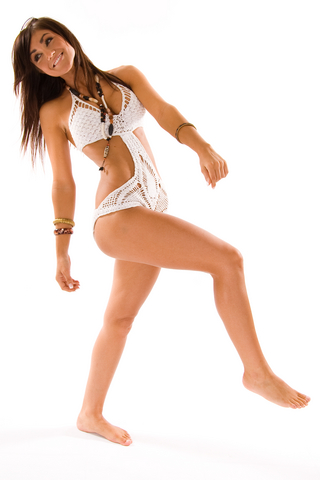 For years now, crochet swimsuits have been big in the fashion industry. It's no wonder why, either. Crochet detailing and crochet garments have gradually been gaining popularity and the next logical step is to bring crochet into swimwear. Many big name stores are now carrying these swimsuits and bikinis for upwards of $100 each, but if you already know how to crochet, you've got an advantage over the general public! Not only can you be fashionable at the pool or beach this summer, but also you can wear something that is totally unique, since you can make it yourself.
How to Make a Crochet Swimsuit
Making your own crochet swimwear is a great way to ensure that your summer swimwear is completely original. In addition, if you are a crochet designer you can really take advantage of the opportunity and test your skills, since making a swimsuit is unlike making anything else in crochet. Like any swimsuit found in the stores, there are many different styles that you could choose from when designing your swimsuit. Some popular designs include:
• Crochet bikini
• Crochet halter top
• Crochet bandeau top
• Crochet boy-shorts
• Crochet one-piece
• Crochet string bikini
For many of these swimsuit styles, you can make a very basic version without being an expert at crochet. While the intricate details and lace motifs make a piece stand out as a one-of-a-kind, a basic crochet swimsuit will still be very stylish, as well as easy to make for a beginner. In fact, Debbie Stroller, a well-known knitter and crocheter, included a simple beginners pattern for a bikini top in her beginners crochet book, The Happy Hooker. If you'd like to learn how to make a basic crochet bikini top, that pattern may be a good place to start. There are also several videos and free patterns online which can be found via a simple Internet search. You can always jazz up the design with your own detailing if you want something a bit more unique.
Making your own swimsuit is a great way to embrace the DIY movement. After all, that is why crochet swimsuits became popular in the first place! There are just a few tips that girls have learned over the years to make your swimsuit more useful.
Tips for Crocheting a Swimsuit
One of the biggest issues crocheters have come across when making swimsuits is the stretch factor. After all, what good is a swimsuit that stretches and sags when it gets wet? Another big issue, if your stitches are not tight enough, is that the bathing suit could become see through once it is emerged in water. These issues have resulted in crochet swimwear being used only for sunning and lounging for the longest time. However, there are a few tips and tricks you could learn from those before you that will allow you to create a crochet swimsuit that is not only gorgeous, but also useful!
The first and most important thing you should remember when planning your swimsuit is to buy the right kind of yarn. Not all yarns should be used in water. Some fibers stretch and sag when they get wet, and others shrink up. Neither of these options are a good choice for a swimsuit, so as you can see, your yarn choice can make a huge difference in the success of your project.
To make your swimsuit, it is important that you use a yarn that is intended for water use, such as cotton, or a cotton-elastic blend. Either of these yarns will hold up in the water and continue looking good with use. You'll also want to find a yarn that is either a sports weight or smaller, so that your swimsuit does not come out too bulky to wear. A crochet swimsuit is supposed to look attractive, not bulky!
Finally, it is very important that you line the inside of your suit. Without a liner, even the stiffest cotton yarn can sag a little or become transparent. Choose a thin fabric designed to be a liner and sew that into the inside of your swimsuit before you try and use it.
Crochet swimwear became popular in the first place because girls realized they could make their own, and make them entirely unique. If you want to try your hand at making your own swimsuit, try out some of the free patterns available today for a basic design. You can always make your swimsuit completely unique by adding decorative edging, lacework, or appliqués. By designing and making your own crochet swimsuit, you'll know that you are wearing something completely original when you head to the beach!