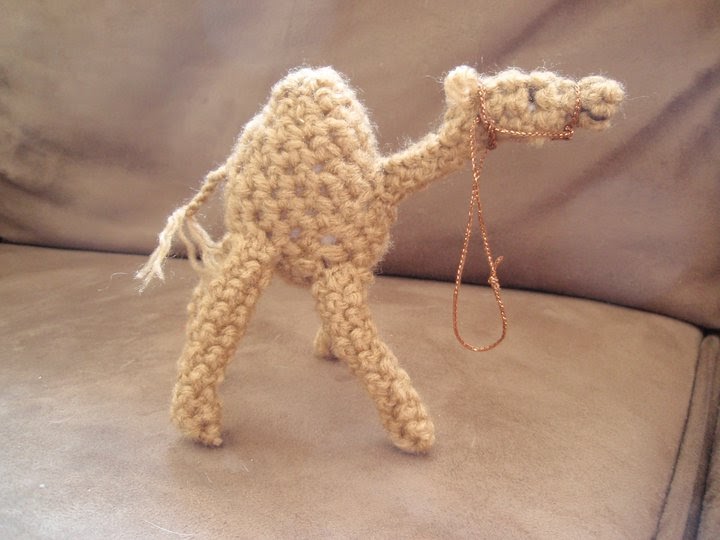 Camel crochet is a name that was given to a certain crochet technique back in the 1990's by author and crochet designer Naka Pillman. Unfortunately, since the term was trademarked, the idea died out when she stopped publishing books and patterns. It's a shame, too, because so many crocheters strive to come up with a design that looks knitted and are unable to. With this technique, your work comes out looking like knitted stockinette stitch, and doesn't even skimp on the stretchiness! If you'd like to learn more about this crochet technique, read on. It's a great technique to experiment with, and creates a unique design concept that many crocheters have tried to figure out with no luck.
All About Camel Crochet
Camel crochet, which was dubbed "the craft sensation sweeping the nation," back in 1992, is a unique twist on the ancient art of crochet. It's surprising that it hasn't taken off, because the technique is really quite simple, once you've figured it out. Rather than inserting your hook into the "V" at the top of a crochet stitch, you simply insert it into the horizontal bar behind the stitch instead. This causes the top of the stitch to roll down, making the "V's" line up on the outside of your work and look like a knit stitch rather than a crochet stitch. In fact, your finished project will even be stretchy like it was knit, which is something that many crocheters strive for!
There were actually several books written on this technique by Pillman back in the 90's, which contained a lot of great information and instructions on how to make this stitch, but unfortunately they are all out of print, now. They are very hard to find, but if you can get your hands on them, I've heard that they are great instruction manuals on how to create the stitch and include patterns and designs that you can make with it. The book titles included:
• Camel Crochet Basic Instruction Book
• Camel Crochet 2, Designs and Patterns
• Camel Crochet for Babies
• Camel Afghans #1
• Camel Afghans #2
Since the term "Camel Crochet" was trademarked, there is very little else you can find about the technique, and the only patterns you can find are the ones created by Naka Pillman herself. However, other crochet designers have begun using this stitch in their patterns under a different name. If you would like to find designs using this same technique, you can find them by searching for patterns using the "hump stitch."
Benefits of Camel Crochet
There are many benefits to using this crochet technique in your work. Since it's such a simple technique to learn, even beginners can take advantage of these benefits as long as they know basic crochet stitches such as single crochet or half-double crochet.
The benefits of this technique include:
• Ability to create crochet items that look and feel like they were knitted
• Use less yarn than regular crochet
• Work up faster than regular crochet
• Simple enough for beginners to grasp
• Creates garments that are completely reversible
• Use any crochet or knit pattern to adapt it
If you want to expand your crochet knowledge by adding a truly unique crocheting technique to your repertoire, try experimenting with camel crochet. It's a simple technique that creates a completely new look. Even with as simple as it is, many crocheters can't figure it out until they've seen it done! After that, it seems pretty obvious, really. If you want to find some patterns or designs for this technique, try searching online for hump stitch patterns to see what you can come up with. If you can't find anything, try taking one of your basic crochet patterns and using the hump stitch to give it a new look! Not only will your crochet friends be amazed by what you've come up with, they'll probably try to get you to teach them, too. With the re-surfacing of Camel Crochet patterns and tutorials, it's no wonder that this stitch is sweeping the nation once again.