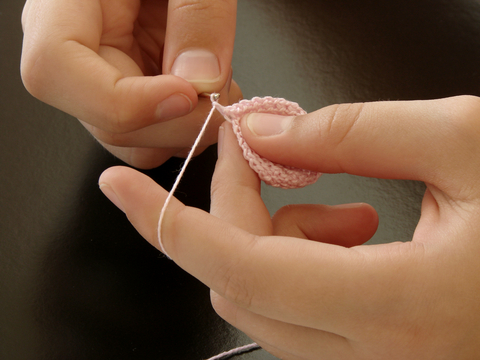 Whether you are looking for beginning crochet tutorials or a video for how to make an advanced crochet stitch, online crochet tutorials are a great place to start looking. For many years, I couldn't figure out how to advance my crochet skills beyond the basic single crochet and chain, and became frustrated by my inability to learn anything more complicated. Then, the Internet became popular, and so did websites such as YouTube. With the ability to see the stitches in action, I was able to finally figure out what I was doing wrong and begin my journey in learning to crochet. If you're looking for some great places to find online crochet tutorials, read on to see my list of favorites.
Favorite Crochet Websites
There are innumerable crochet websites that can be found with a quick Google search these days, so if you want to narrow down your search and check out some tried and true tutorials, read on to see my list of favorites.
• Crochet Pattern Central: This website is ideal for beginner crocheters. It is full of beginner tutorials, free simple patterns, tips and tricks, and even videos for some basic crochet stitches. It is a great "one stop shop" for all of your beginner crocheting needs.
• Ravelry.com: While you do need to create an account to access this fiber community, it is worth the few minutes that will take, whether you are a beginner or advanced. The account is free and it grants you access to forums, groups, patterns, tutorials, supplies, and articles related to crochet and knit. You can join groups of crocheters to get tips and tricks or find a beginners group to help you find tutorials and patterns that are just right for you.
• Art of Crochet, by Teresa: Teresa is well known in the online crochet community. She has a blog full of crochet patterns as well as a YouTube channel with amazing crochet videos. Her videos have taught me basically every stitch I know, and there are countless more that I have yet to learn! Teresa's website and videos are a great place to learn whether you are just starting out or just looking for some new and advanced techniques, like Tunsian crochet or Bavarian crochet.
• Craftsy.com: This website is not exclusive to just the fiber arts, much less exclusive to crocheters. However, it is similar to Ravelry.com in that you can purchase patterns, find free online crochet patterns, and find tutorials and classes for a number of crafts, including crochet.
How to Learn to Crochet Online
Everyone learns differently, so these websites may not be your favorites like they are mine. If you like seeing a stitch being performed by someone more knowledgeable than you, you'll probably like to see the video tutorials on many of these sites. However, some crocheters prefer written instructions, in which case your favorite websites may not be listed here. There are also many photo tutorials that can really explain a process perfectly, when done right.
However you like to learn, be sure that you find thorough, well explained instructions. The best crochet tutorials explain every step of the process, including abbreviations and typical crochet jargon. You should also learn what abbreviations these stitches are commonly represented as in patterns, such as single crochet (sc), and double crochet (dc). So, whether this information is presented to you in writing, in video format, or both, just make sure all of the relevant information is included. If you do that, then you'll easily be able to expand on your crochet knowledge and become more proficient in your skills.
Learning how to crochet has become much simpler in the last few years. Since you can now find so many tutorials online, there is no need to pay for a teacher or find someone in your family that can teach you well. With the ability to watch video tutorials or follow numerous blogs with instruction, you'll no longer be held back by your lack of a teacher. If you're looking for a place to find online crochet instructions and tutorials, start with the short list I've included in this article. If you still haven't found what you're looking for, begin your own search online and you're bound to find the perfect website to help you learn new crochet techniques.