Crochet garments have become all the rage in fashion in the last few years, and one way that this has become very evident is in the rising popularity in crochet tops. These garments are easy to find in many popular stores, for both young and old alike. However, you pay for the look, and it can get very pricey if you want something nice. Luckily for you, creating your own crochet top is very easy to do if you just have your own pattern. Do-it-yourselfers everywhere have begun to see the benefit of using a little of their time to create their own garments and save some money. If this sounds like something that may interest you, read on!
Avoid the Cost of Crochet Tops
If you take a quick look around, you'll find crochet tops in abundance. The problem is, even the cheapest of these shirts cost around $50 for one. However, if you know how to crochet, you can find great patterns to make your own by searching online for patterns.
Whether you are looking for a full length, tightly stitched crochet top that can be worn alone, a bikini style top to wear during the summer, or something lacey and open to wear over another shirt, you can find all sorts of patterns on websites such as Ravelry.com or Crochet Pattern Central.
A very popular designer of women's clothing and accessories is DROPS Design. They have a variety of crochet shirt patterns as well as shawls, sweaters, scarves, and hats. If you have a bit of time to spare and access to plenty of yarn and crochet hooks, you can make yourself an entire crochet wardrobe for the price of some of the more expensive crochet tops available in stores!
Popular Crochet Top Designs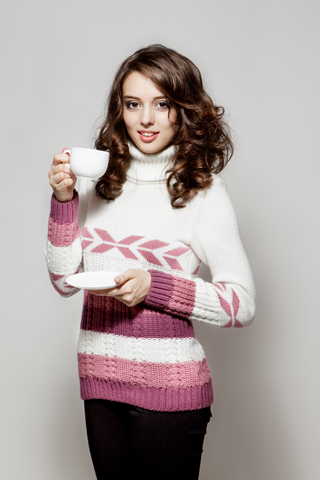 Most people think of crochet tops and imagine the skimpy crochet bikini style tops or the bulky crochet version of a knit sweater. However, designs in crochet have come a long way in the last few years, and you may find yourself pleasantly surprised when you search online for inspiration. There are so many ways to make a top out of crochet these days. If you are a fan of granny squares you can crochet a top made from granny squares. You can create a lacey top to wear over your clothing, or even tank tops and tunics to wear alone. Depending on your yarn of choice and the design you choose, you can create these tops for both winter and summer, so there is a design for everyone.
Some of the most popular designs for tops include lacey overlays, tunics, fall sweaters and ponchos, and shirts with the basic granny square style stitch patterns. However, the beauty of crochet is that there is a design for everyone, and there is always a way to make your work stand out and be unique! If you feel like making a tank top out of cotton thread, you can probably find a pattern to do it! If you'd rather use a bulky yarn and create a heavy top for winter, you can find that, too!
Benefits of Making a Crocheted Top
By crocheting your own shirts and tops rather than purchasing them in the store, you have the benefit of owning a truly individual garment. Even if you used a pattern that you found online, your garment will still be totally yours, because no two handmade pieces will ever be exactly the same. In addition, by crocheting your own instead of purchasing a shirt from the store, you have the ability to use whatever colors you like, and to make several colors of the same design so that you always have a great top to wear!
Crochet tops and other garments are all the rage in the fashion industry right now. If you already know how to crochet, you have a leg up from the other shoppers in frenzy over buying these items in the stores. Rather than spending buckets of cash on one or two tops, you can spend just a little bit of time on the weekend and have your own top that is totally personal and unique. Your friends will all be jealous! Who knows, perhaps they'll pay you to make them some crochet tops, too!