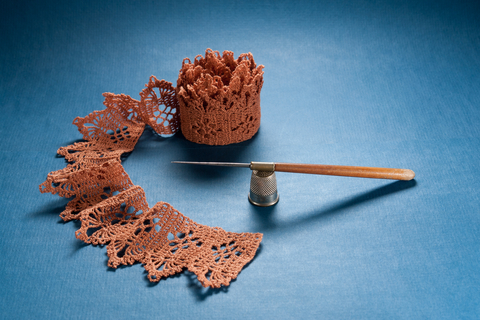 Using the half double crochet technique can make your life much easier – especially when trying to make a scarf. Scarves are possibly the most popular item that people crochet. This is especially true for beginners. Beginners think that a scarf is likely the easiest thing to make and they would be correct; if they use the right technique. There are other ways to make a great scarf (which will be covered here as well) but none are as easy as the half double crochet technique. Keep reading to learn more about scarf making through the world of crocheting!
My Journey To Discovering The Half Double Crochet Variation…
When I first began crocheting I experimented with several different stitches. My first project was (big surprise) a scarf for my mother-in-law. I will be honest and tell you that no matter what stitch you choose to make your scarf, it will take a good while to complete it when you are not a pro. But, it is a worthy first project and it led me to be able to do more complex crocheting later down the road.
First of all, I began with a ribbing technique made by the single crochet method. This gave the material a sweet look and a great feel but doing it with the single stitch method took way too long. It was days before I even made a dent in the thing! So I scrapped that piece and began once again using Tunisian stitches.
These crochet stitches turned out to produce a really soft piece of material – at least on one side. The other side was rough and extremely stiff. The underside was just plain messy looking and for a scarf you want it to look and feel nice on both sides. Thankfully I figured out that it was a no go before I got too far into the project. I scraped this one as well.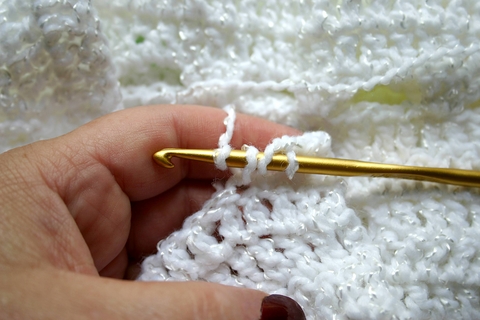 Finally I stumbled upon the half double crochet method. This made the ribbing very nicely but it was still kind of dense for my taste. However, this was the best shot I had so far so I did some research and found a fantastic variation of this stitch – which I will share with you now!
Half Double Crochet Variation
I was thrilled to learn this variation! Not only did it make a fantastic looking scarf, but it was so much easier than any other of the crochet stitches that I tried. Using this method allows the top of the stitch to look a lot like a knitting line. Typically the top stitch is not seen due to the second row of stitching. However, with this method there is an extra loop created that is used instead of the original top stitch. This is what makes the beautiful ribbing design.
How to Do it
First you need to learn the basic half double crochet stitch. Once you learn that you are ready for this cool variation. The first step is to start a row in half double fashion. Each row will proceeds like this but with one difference; the hook will be inserted into the extra look found below the gap where the hook would normally be inserted. The ribbing effect will not be seen right away, but after you stitch a few rows you will see it pop out in all of it fantastic glory!
Some Tips to Remember…
Keep in mind that you do not want to put the hook in the ribbed stitches. It must be inserted right around the loop under the sport where it is generally inserted. The extra added loop exists because you are doing the half double stitch, so if you were doing the single or double stitch, the added loop would not be there. So besides putting the hook into a different area, this variation is exactly like doing the traditional half double crochet technique.
Once again, the ribbed look will not appear right away, so don't give up because you think you are doing something wrong. You will not be sorry because this variation on the half double crochet look will be amazing wrapped around your or your loved ones neck!